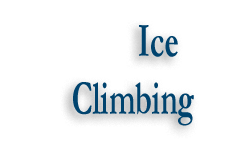 Vast improvements in ice tools, crampons, boots and clothing have helped ice climbing grow from the terrifying, cold struggle it once was, into the rapidly expanding sport it is today. Technology, in combination with a healthy dose of technique, makes it possible to climb frozen water that may have started its journey to your climb as a stream or even a cloud.
Our Ice Mastery Method is a series of courses that will get you onto the ice and climbing as quickly as possible. These courses address the full gamut of techniques and decision-making required to tackle the most basic through the most advanced climbs. If you're already an experienced rock climber, you'll find that with a few new techniques and a readjustment of your balance, ice climbing is easy to pick up.
Once you've mastered the basics, Ice Guiding allows you to explore the superb routes that have earned the Adirondacks a reputation for some of the best ice climbing in North America.
We also arrange private trips, for qualified climbers, to many of the world's great ice climbing destinations.
Our ice climbing programs focus on climbing water ice (as opposed to alpine ice). The techniques required to climb this fickle medium are somewhat different from those used for alpine climbing or glacial travel, and all of our ice climbing programs reflect that difference. If your interests lean more toward alpine or high-altitude climbing you should visit our Mountaineering section.
Clients provide appropriate footwear and clothing for ice climbing programs. We provide all other equipment, including harnesses, helmets, ice tools and crampons – or you may use your own equipment if you prefer. High-quality boots are available for rental. Please see Ice Equipment for specific recommendations and rental information.
Unless noted otherwise, programs meet at 9 a.m. and conclude at approximately 5 p.m. each day. We provide your lunch each day, however breakfast, dinner and accommodations are not included. When you register for a program we can help you arrange for Accommodations to suit your preferences.